So...  It started out with an idea:  I'd make a white chili and then add some of the remaining Thanksgiving turkey...
I sautéed a minced large onion for a few minutes, then added a few minced jalapeños (from our garden! yes! still!) and a ton of minced garlic.  Then I diced two ribs of celery, and, after realizing I had I few various types of not hot and moderately hot peppers in the fridge, I diced them up and added them as well.
I let all of this sauté for a bit.
I tasted it.  Added salt.  Tasted again... and started adding "chili" flavors:  ground toasted cumin and dried oregano.  Now we're getting somewhere.
But not quite.
Knowing I would be adding turkey, I added some of the remaining gravy from the feast, diluted with a little water, as the liquid base.  Then, in went a pound of cannellini beans I'd cooked very simply in salted water.  Good!
But something was still lacking.  And I knew my white chili was about to become beige.  I wanted the recognizable familiar flavor of chili powder.  So in went about two teaspoons...
YES!  I'd found a way...
So I added about 2C of minced dark meat from the turkey but then, in a rather giddy moment of inspiration, I totally let go of the idea of "white chili" and decided to go one step further.  I took 1/4C of cocoa powder, mixed it with enough water to make it smooth, added it to the pot, stirred it in...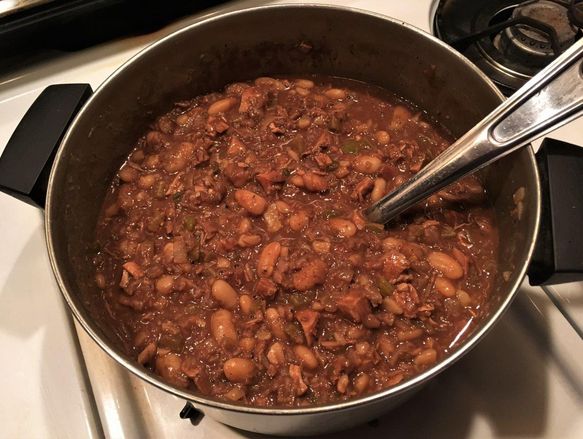 And now had a deep burgundy "white chili."  But OMG!
Jackpot!  Part chili, part mole, all spectacular!  Deep...  Smoky...  Even a bit mysterious.
I served it in very hot bowls, topped with some diced white meat (no more cooking needed), sour cream, and minced cilantro.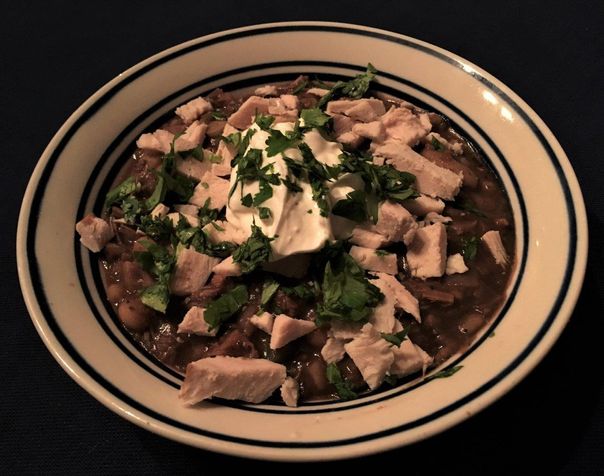 Wow.
Play with your food.  It will not only surprise you, but you may just come up with a runaway hit...
Like this!