Over the years, I've been blessed to work alongside and learn from some of America's foremost chefs.  Whenever I do, I try to take some time afterwards to think... what did I learn?
So it should be with celebrating Thanksgiving.  Of course, no two chefs (or families, for that matter) will approach the particulars of the feast in the same way.  Even so, from a culinary perspective, I like to look back at the many Thanksgiving feasts I've shared and ask... what did I learn?
Here are a few tricks I've picked up that I hope prove helpful to you.  I'll be posting more details on each of these this weekend, but for now, This Old Chef says...
ҩ  Spatchcocking the turkey is THE way to go:  moist meat, crisp skin, and an 11-pound bird done in 80 minutes.  Truly.
ҩ  Make your gravy days ahead (make a stock from turkey parts instead of waiting to make it from the bird in the last hectic minutes before serving).  You can even pour a bit of pan drippings in (if you feel the need to make yourself rush at the last minute).  This year I added some duxelles and brandy...  Oh my goodness!
ҩ  You can peel and cut your potatoes (for mashed potatoes) early in the day.  Just keep them covered with cold water.
ҩ  Make your cranberry sauce (chutney in our case) early in the week.
ҩ  Set the table the day before.
ҩ  Always heat your plates.
ҩ  If your vegetable can be reheated or finished cooking later (we had succotash) (with a little bacon), get the first part of the cooking done early.
ҩ  Our "dressing" is old-fashioned sage-bread-celery-onion.  Sautéed the celery and onions 2 days before... cubed and toasted the bread 2 days before (and by the way, toast, don't just let it get stale, really).  Mix it early in the day, get it in the pan, keep it cold... cook partially while the oven is heating... then all you have to do is finish it while the cooked turkey rests.
ҩ  This brings us to The One Thing No One Wants to Do:  The turkey, lightly tented with foil, will stay REALLY hot for at least 30-40 minutes, if not more.  So.  REST YOUR TURKEY!  It really makes a difference.
Most important...
Enjoy whatever meal you put on the table!  Enjoy your loved ones!  Enjoy every day!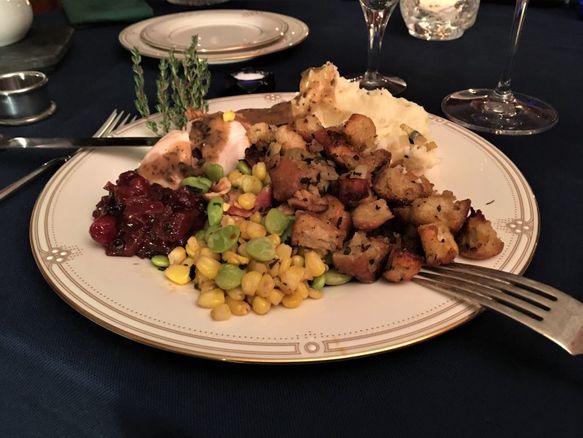 And to the treasured This Old Chef faithful...
I just want to let you know how thankful I am for all of you who read... consider... and cook from the blog.  It means the world to me.   The world may be a bit scary at the moment, but we need always to remember that we have wonderful things to be thankful for...
Happy Thanksgiving!