A simple dessert that will wow your guests... and one that I discovered in a little bistro while touring the UK with The Royal Shakespeare Company...
Make some homemade (REALLY) chocolate pudding with dark bitter chocolate. Serve a small amount, and just before it comes to the table... float Cointreau over the top.  The combination of the dark not-too-sweet pudding and the sweet-but-intense orange flavor of the Cointreau is really a winner... and serving a small amount lets your guests experience the richness without overkill. But please don't be tempted by boxed pudding... homemade is really pretty easy, and the difference is night and day. The following recipe is a combination of recipes I've used over the years...
Whisk ¼ cup of sugar, and ¼ cup of Dutch process cocoa powder with 2 tablespoons of cornstarch and ⅛ teaspoon of Kosher salt in a saucepan with 2¼ cups of whole milk.  Boil gently for 4 minutes... whisking constantly.  Remove from heat and whisk slowly into one extra large egg. Then whisk in 4-5 ounces high-quality bittersweet chocolate, chopped fine, until smooth.  Add 2 teaspoons of good vanilla extract.  Store in the fridge with a piece of plastic wrap directly on the surface of the pudding.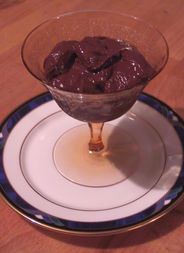 This is so rich that a small serving is the perfect amount... so this will serve at least ten people.  And though the Cointreau is, to my mind, perfect... other liqueurs will also work... Frangelico, etc.