I often wish that described me...
But in this case, it's a poppyseed cake I've been making since the early '80s.  The original recipe (found in the old Joy of Cooking) called for two layers and a pastry cream filling, and a chocolate sauce. While I'm sure that was awfully tasty, I think a wedge of only one layer, dusted with 10X (powdered) sugar if you want to get fancy, is so good it doesn't need anything else.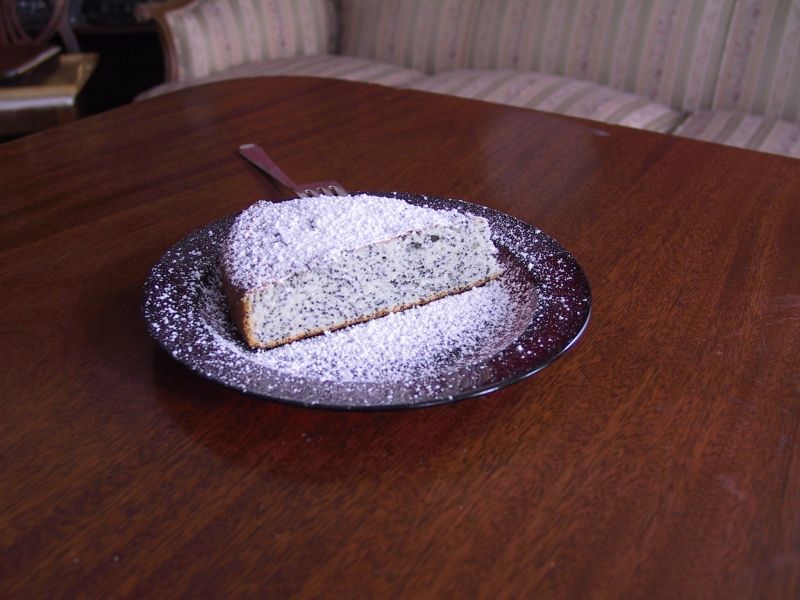 And yes, I'm old enough that I still refer to powdered sugar as 10X... which simply means granulated sugar ground and refined 10 times.
POPPY SEED CUSTARD CAKE
The Joy of Cooking, 1975
 
Have all ingredients at about 70 degrees.
Combine 2/3 C poppy seeds and 3/4 C milk and soak for 2 hours.
Preheat oven to 375 degrees.
Beat 2/3 C butter until soft.  Add 1½ C sugar gradually and cream until fluffy.

Sift 2 C cake flour before measuring, then resift with 2½ t double-acting baking powder and ½ t salt.

Combine the poppy seed-milk mixture with ¼ C milk and 1 t vanilla.

Add the sifted ingredients to the butter mixture in 3 parts, alternating with the liquid ingredients.  Beat the batter after each addition until blended. 

Whip until stiff, but not dry, then fold in 4 egg whites.

Bake about 20 minutes in 9" round pans with greased bottoms.

Place crème pâtissière between cooled layers (recipe below).

Dust with powdered sugar.

Crème Pâtissière
Scald 1 ½ C milk with one vanilla bean.

Mix ½ C sugar, ¼ C all-purpose flour, and 3 to 4 well-beaten egg yolks or 2 eggs and 2 yolks in the top of a double-boiler over boiling water.

Beat this mixture until light.  Now remove the vanilla bean and add the scalded milk gradually. Stir until all is well blended.  Cook, stirring constantly, until it begins to thicken.  Remove from the heat and continue to stir to release the steam and prevent crusting.  Cool mixture before filling pastry.