I can't really explain it...
OK... I could say that some of the roast chicken was sitting in the fridge waiting to be... repurposed.
I could say that it was the week before Christmas and I wanted to cook everything I could think of that is the antithesis of new/fast/low-fat/fusion, etc.
I could say that, knowing we'll be working in L.A. on Christmas day, I felt the need to pamper us now... in preparation.
Whatever the reason, I stepped into a time machine yesterday.  I made a batch of crêpes... and yes, it's true, the first one never works!
For a basic crêpe recipe, one need look no further than Julia... No surprise there...
Combine 1 C AP flour, 2/3 C water, 2/3 C milk, 3 eggs, a pinch of salt, and 3 T melted butter.  A blender works well, but whisking is fine.  Let it sit for at least an hour.  Heat a bit of butter in a non-stick pan.  Pour in 1/4 cup batter, swirl it around the pan, pour any excess back into the batter... cook for about 30 seconds... flip it over... cook a few seconds... and remove to a plate.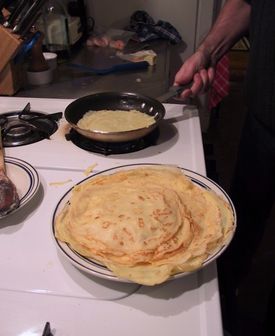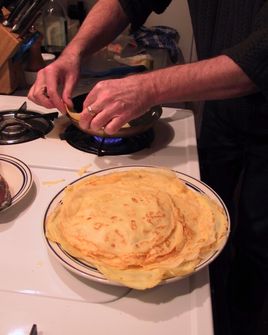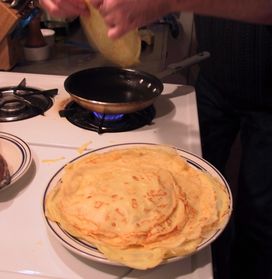 Then I made a velouté... essentially a béchamel using my roast chicken stock in place of most of the milk. Then I sautéed some finely minced onions in - wait for it - schmaltz... which I had scraped off of the roast chicken stock.
I deglazed with a shot of Sherry and added some frozen (no need to thaw) tiny peas.  These were combined with about three-quarters of the velouté, to which I added a generous helping of cubed roast chicken and a few scrapings of nutmeg, along with some salt and pepper.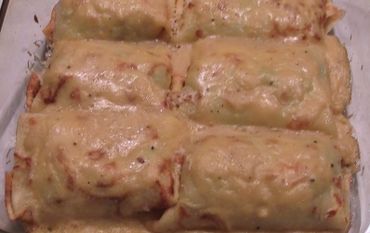 I rolled up crêpes with about 2 tablespoons of the filling,  put them snugly in a buttered baking dish, topped with a bit of the remaining velouté and a dusting of microplaned Parmesan, then off they went to spend 15 to 20 minutes in a 350° oven.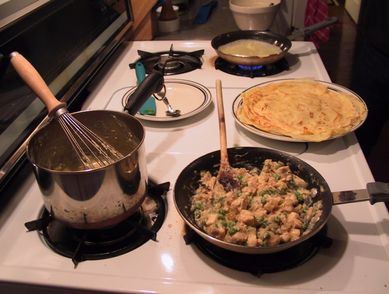 All I can say is, do this right, and you bypass The Magic Pan and head straight for Paris... ooo la la!!!