I realize that 85° is not cold... it's not even cool... but after DAYS nearing 100° - it felt like autumn tonight.  And, after a meeting about teaching cooking classes on a cruise ship (seriously)... I was close to a Trader Joe's and, while there, I bought a chicken... not knowing that the following week would be tropical.
But still, I had the chicken... and I had to roast it - soon - no matter the weather.  So I followed Mark Bittman's advice and heated a cast iron skillet in a 500° degree oven... added the chicken (stuffed with lemon grass and rosemary) and salted/ peppered/EVOO'd inside and out... breast side up... let it go for 15 minutes, and then lowered the heat to 350° and left it alone for 50 minutes.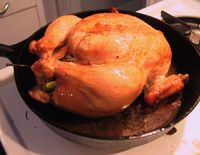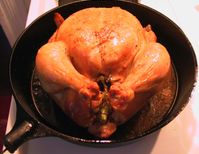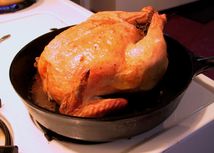 OMG... just about perfect... served with a salad, a bit of rice, and a few croutons sautéed in the rendered chicken fat... with a spectacular Sauvignon Blanc (a gift from my best friend and cooking partner, screenwriter Deb Stenard).
Perhaps it should have been October, but it was pretty wonderful anyway!