I know I'm out of order...
There are still Chicago and Cleveland posts yet to come...
But this one has to jump to the head of the line... I'M HOME!
Richard III closed on Sunday, bringing to an end my eight-month adventure in Cleveland and Boise. While sad to leave some very lovely people, I was pretty damn giddy about getting home.
Our favorite store was having a huge sale on salmon, so off we went to buy a 3/4-pound piece. I sliced it in two, removed the skin, and wrapped each piece in some not-so-new prosciutto I discovered in the freezer.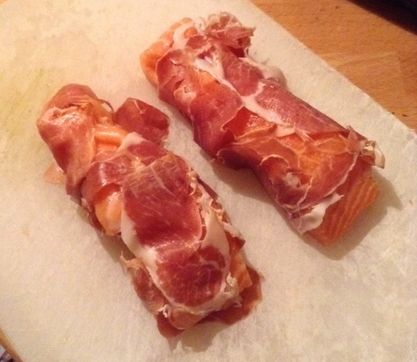 In a hot grill pan, I cooked each piece for about 1- 1½ minutes on each of the 4 sides, and removed it from the heat.  I served it with sautéed potato cubes sprinkled with pepper and a very heavily smoked salt, with a side of our version of succotash:  sautéed shallot, sage, red pepper and steamed lima beans tossed together with corn.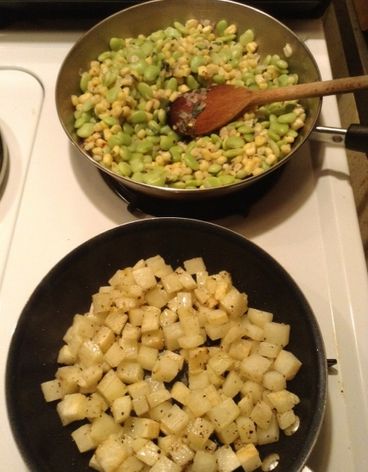 Just before plating, I sprinkled the prosciutto-wrapped salmon with a bit of a very mildly smoked salt.
I was pretty sure this would work, but something really surprised both of us. The prosciutto wrapping kept so much moisture inside the salmon, and added its own fatty porkiness, that the texture of the salmon was unlike anything I've ever tasted... it was almost like a salmon custard it was so soft.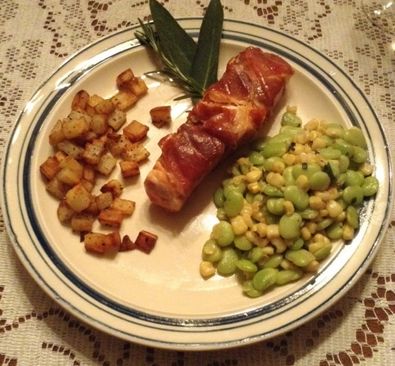 I think this may become a go-to dish for entertaining... It was that good, and that easy.
Cold weather... A fire... Really good food... Home.... The perfect companion...
All in all, quite a homecoming.