I have received many requests regarding recipes for the Southern New Year's Day food... who knew!?!
The black-eyed peas couldn't be easier.  No soaking... just rinse a 1-lb. bag of them, add to a pot with 1 or 2 smoked ham hocks, a chopped onion, and some garlic.  Cover with about an inch of cold water (you'll need to add water as the cooking continues... it all depends on how "soupy" you like them!).
Bring to a boil, then lower the heat and simmer for between 30-45 minutes, until they're done to your taste.  I add salt at the end because I like that salty kick that comes with end-of-cooking salting, but you can certainly add it earlier.  I also, at the end, add LOTS of black pepper, and a good-sized shot of hot sauce.  I generally use my homemade habañero, but Tabasco is fine.
As for the greens... I keep a container in the freezer... whenever I get beets with greens, or turnips, or sometimes even with arugula that's about to die... I quickly wilt it with a little EVOO and salt.  Then I store it in the freezer and when I want greens, they're already half-cooked!  Of course you can do this with frozen greens or fresh, just add some time to the cooking for the fresh ones.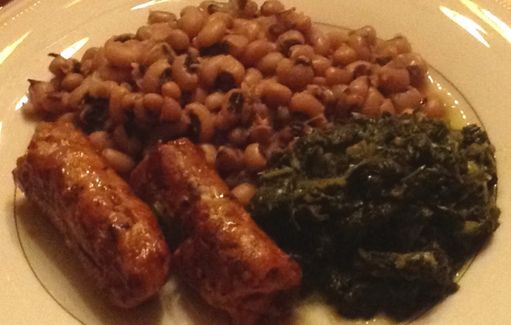 So... I chop some onions and sauté them in EVOO, add a smoked hock, add the greens and some chicken stock, and cook for a long time... not as long as my mother-in-law did, Lord knows... but long.  Add a little salt and pepper... and be sure to serve a cruet of good vinegar on the side.  These 2 are very flexible... a little more of this, less of that... whatever your taste demands.  But this next one... 
Most Yankees, myself included, will hardly recognize this as cornbread:  no sugar, no eggs, dense, and a little...  well... gritty from the cornmeal.  It's also white!  But this is the cornbread I've learned to make over the years that most closely resembles that made by my mother-in-law.  She used self-rising cornmeal but, as I live in New York and that's not a staple at the corner store, I've had to make up my own rising strategy.  So...  My approximation of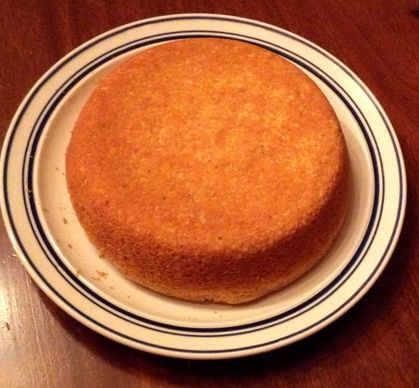 HARRIET'S CORNBREAD 
Ingredients:
1¾ C White cornmeal
1½ C Buttermilk (or milk soured with sour cream, vinegar, even yogurt)
2 T Lard (yes... really)
¾ T Kosher salt
1 t Pepper
⅛ C Hot water
1t Baking soda
1½ t Baking powder
Pinch flour
1) Preheat oven to 450°.
2) Combine all dry ingredients.  Add lard and mix with your fingers until it's like sand.  Add buttermilk and hot water, and stir to combine. 
3) Pour batter into a well-greased (trust me... you'll be sorry if you skimp), WELL-SEASONED #5 cast-iron pan (that's 8 inches across the top, and 6 and three quarters across the bottom), place in the pre-heated oven and bake for 30 minutes (it could be 5 minutes longer, depending on your oven.)
4) Let it sit for a few minutes, gently run a knife around the edges, cover with a plate and flip out (the pone... not you!)
Be prepared, this is very different from the cake-y cornbreads you may have tasted, and it's certainly nothing at all like the Jiffy mix I grew up with... But trust me, it tastes like corn, and it'll grow on you.