I can hardly believe it's already St. Patrick's Day again...  My parents were right when they told me time just goes faster and faster!
We were never the Irish Stew kind of family, so I've pretty much had to make up my own Irish feast menu.  Though there have been minor variations over the years, we've basically settled on a few must-haves:
Salmon, in honor of some of the world's greatest...
Colcannon, in honor of the essential white potato...
And asparagus in honor not only of the green beauty of Ireland but also in honor of the promise of Spring.
So, while not necessarily an Irish-AMERICAN type of St. Paddy's Day meal (I'm really not a big fan of corned beef)... I think Ireland would probably nod and smile.
For this meal, I simply salted and peppered filets and sautéed them in butter until just barely done.  Then I sauced the salmon, this time, with a very simple reduction of shallots, pinot noir, and chicken stock....to which I added an obscene amount of cold butter, swirled into the reduced wine/stock/and shallots.
The colcannon is my usual riced potatoes with heavy cream, with steamed sliced cabbage folded in, then topped with chives.
And my surefire way to cook asparagus:  snap off the tough ends and place in a skillet with a small amount of salted water and simmer until they just barely start to soften.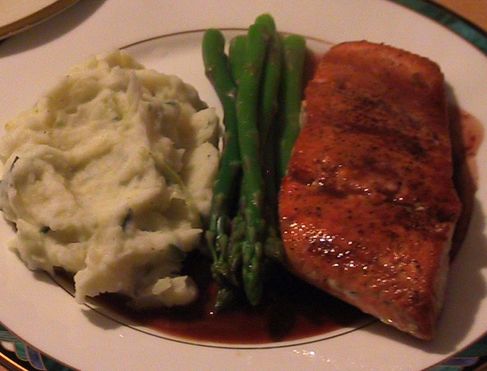 Usually, I finish with something chocolate for dessert, but this year, we were both feeling so Springlike that dessert seemed unnecessary.  But a wee drop o' the creature never hurts... Sláinte!
(Originally posted on March 13, 2013)