So… Last year, Charlie wanted chicken on St. Patrick's Day, a radical deviation as salmon has been our go-to for years now.  On went the thinking cap.  Chicken is very Irish… as is cream.  Then I started thinking about a variation on one of our oldest favorites:  Craig Claiborne's chicken breasts in a tarragon cream.  Yes, it's very '70s.  So sue me.  (A link to my riff on this classic is below.)  But tarragon is not in the garden yet and it's not reeeeeeally Irish, so...
I had a scathingly brilliant idea.  There are few ingredients more Irish than… BACON!
First, I slowly cooked 3 rashers of bacon until crisp.  Removed them, poured the glorious fat into a bowl, and deglazed the pan with a splash of white wine.  I poured that into another bowl.  Chopped up the cooled bacon. 
I salted, peppered, and floured 2 chicken breasts.  In the bacon pan, I sautéed 1 chopped shallot in the bacon fat, with a tablespoon of unsalted butter.  Then in went the breasts, along with about 1/2C low-sodium chicken stock, and the deglazing liquid.  I covered the pan, turned the heat to low, and cooked for about 20 minutes, checking frequently, adding stock if/when needed, until the chicken JUST reached 160°-165°. 
I removed the breasts, keeping them warm in a 325° oven, while I finished the sauce with about 1/2 C cream.  I let that simmer for a few moments, added half the chopped bacon, sliced the chicken ('70s, remember), fanned them out on the hot plates, spooned the sauce over the top, scattered with chives, and the rest of the bacon, added a scoop of colcannon (see recipe below), and we proceeded to have a truly wonderful meal.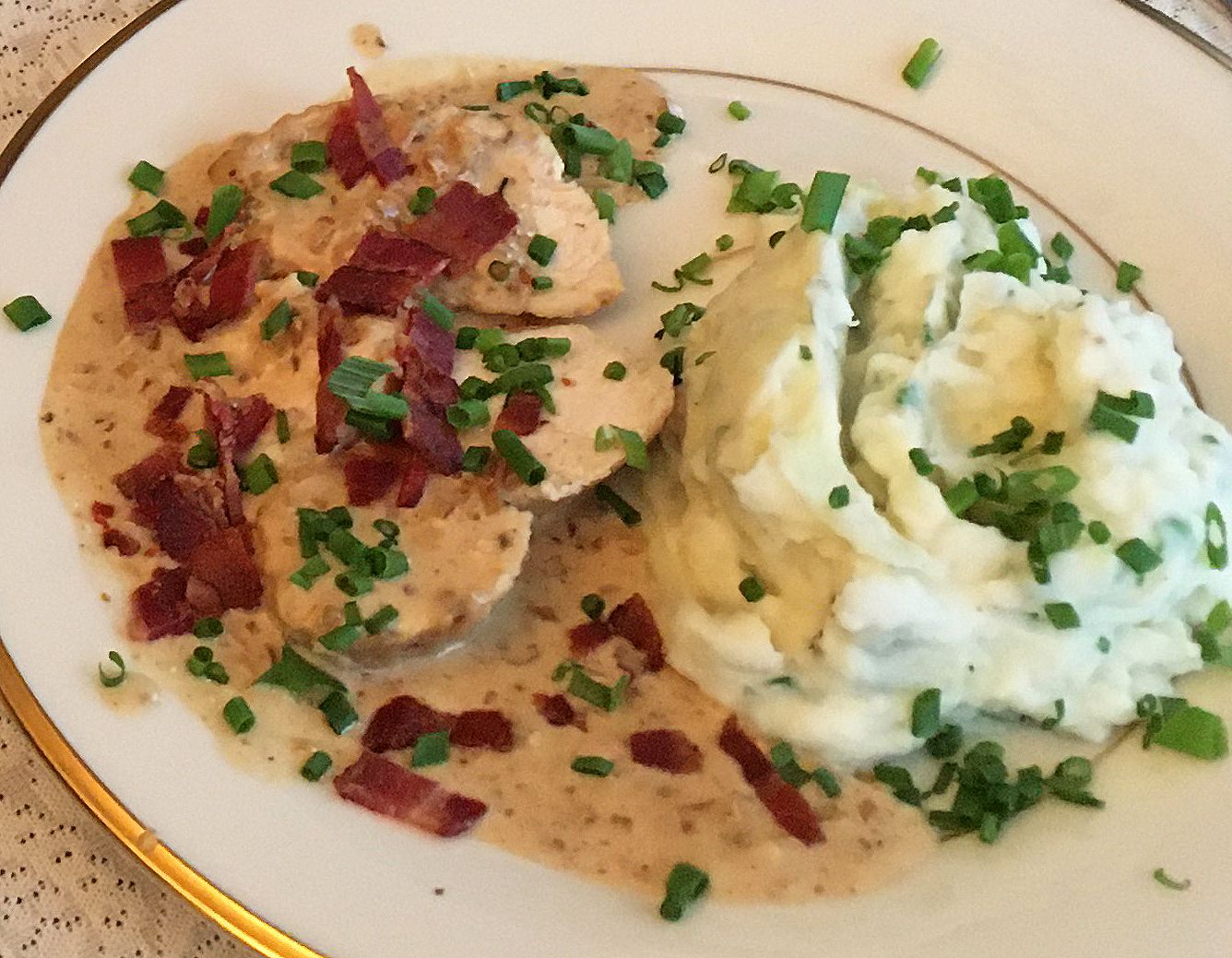 But wait!  There's more!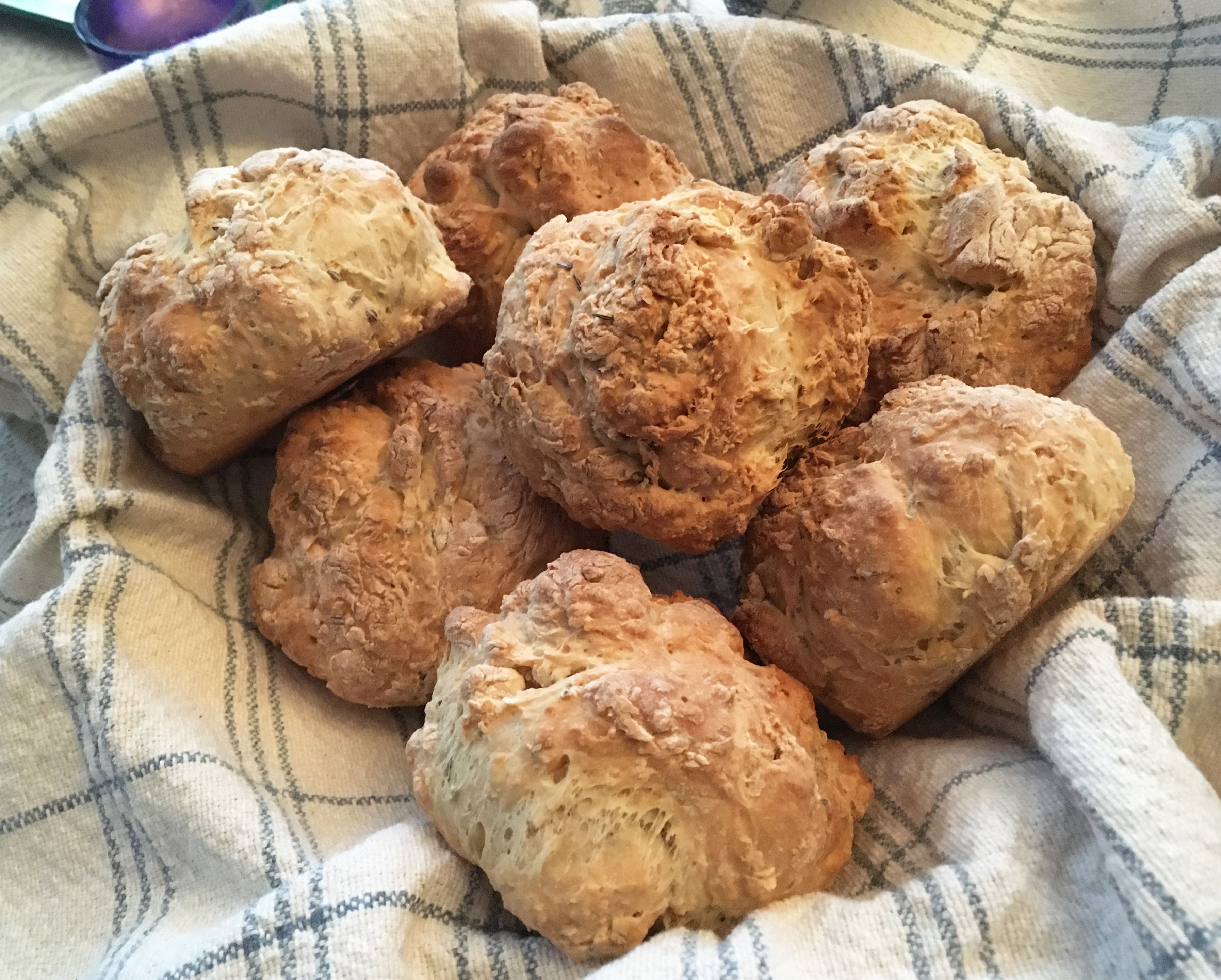 You really have to make my new favorite dinner rolls:  make soda bread dough (recipe here) and instead of one large loaf, make 8-10 balls, slice the tops, and bake as usual.  I would check the oven a little earlier since the rolls are so much smaller than the large loaf.  You're looking for an internal temp of 180°.  Let rest at least 10 minutes before serving... with LOTS of great Irish butter.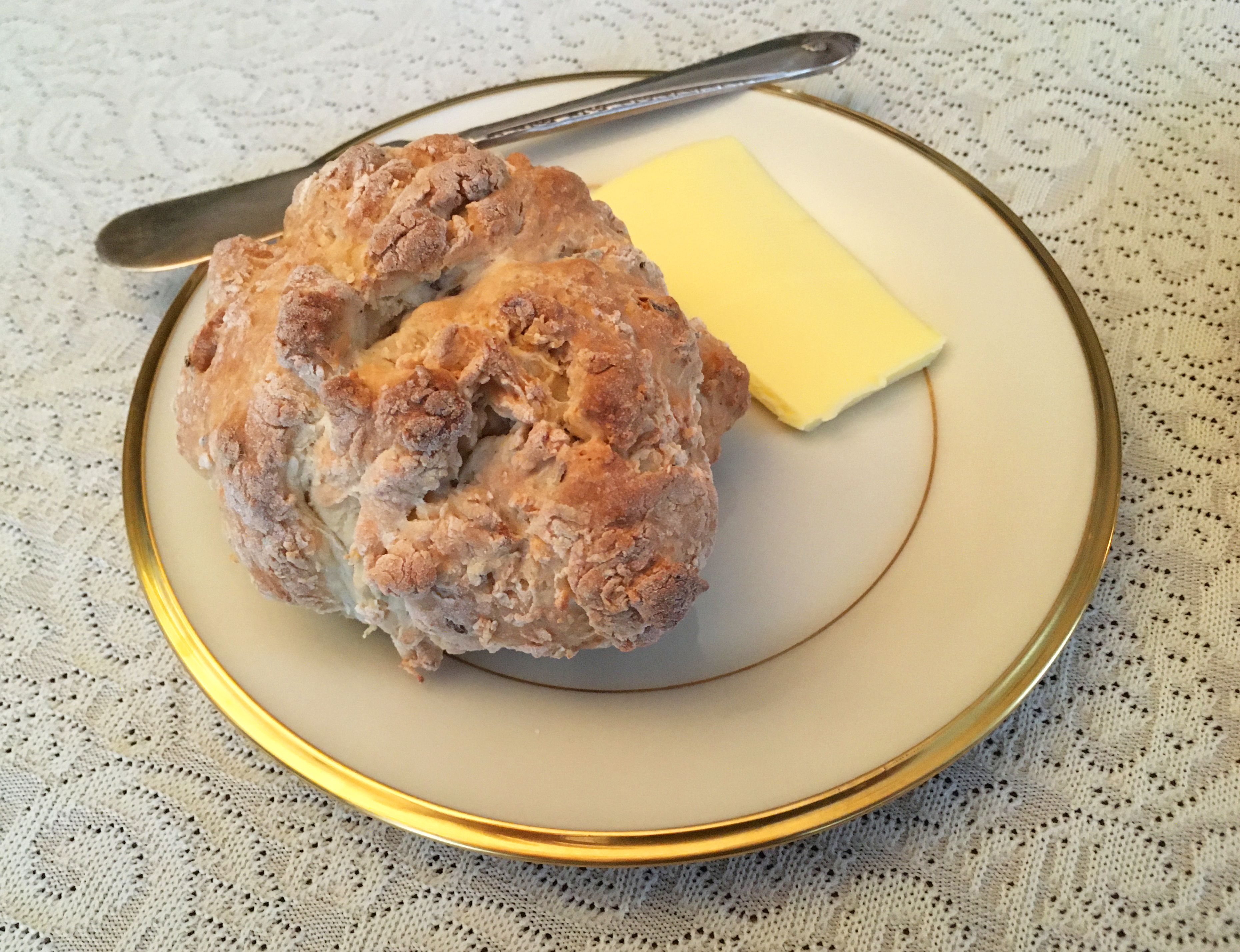 Will I serve us bacon infused cream at every meal?  No. 
Would I, if I could?  You betcha! 
This was incredible.... even if it wasn't the salmon I planned!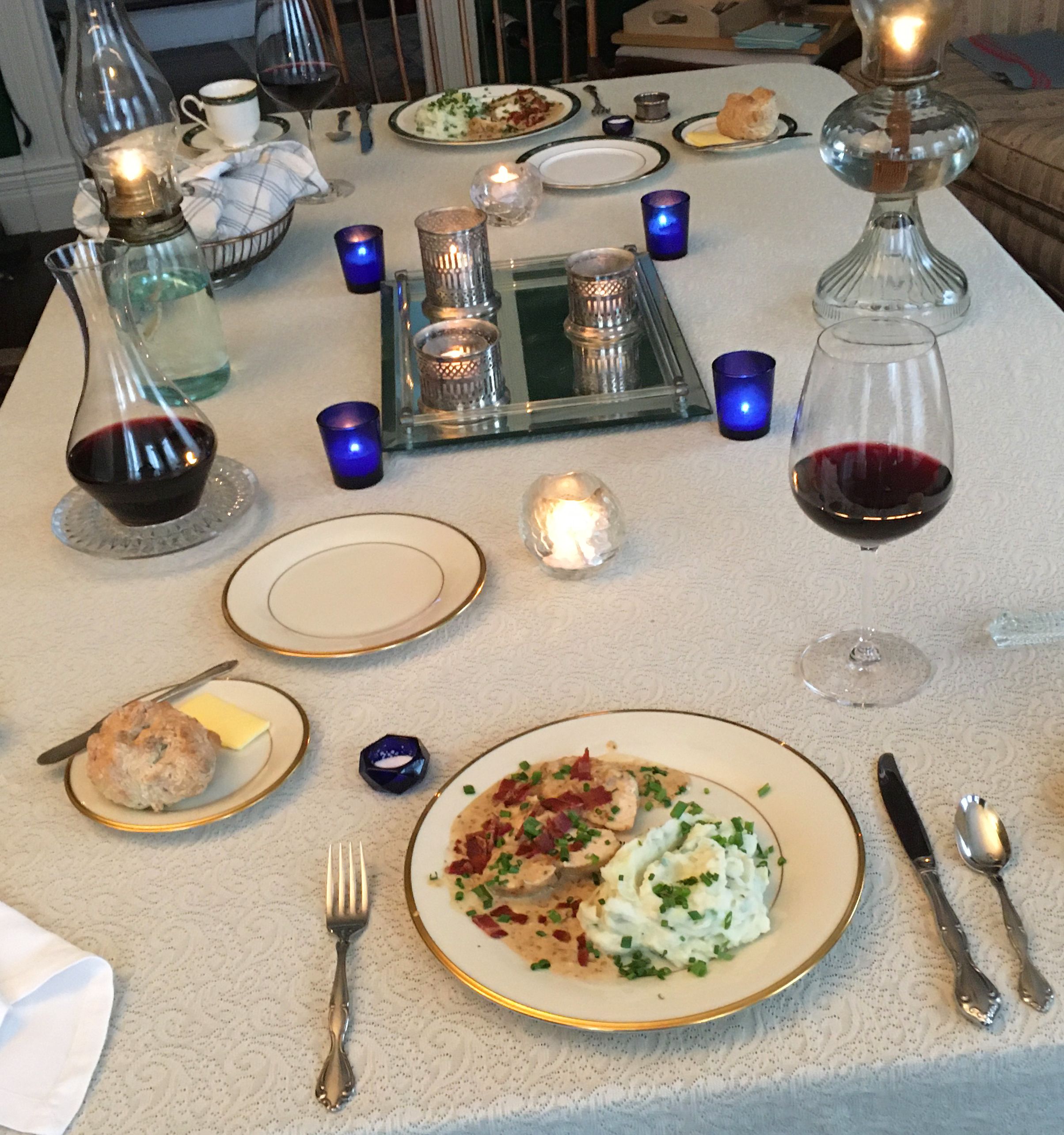 Colcannon
3-4 lbs. Russet potatoes, peeled and cut in similarly sized chunks  
¼ to ½ Head green cabbage, cored and sliced thin  
Salt and pepper  
Heavy cream  
Chives, minced or cut  
1.  Place potatoes in a large pot, cover with cold, salted water, and bring to a boil.  Lower the heat so that water remains at a high simmer, but not a high rolling boil. Cook until potatoes are done (soft but not falling apart).  Drain.  
2.  At the same time, steam sliced cabbage until it starts to soften, but not until it gets mushy.  
3.  Use a ricer or a food mill on the potatoes.  Begin to add warmed cream, slowly.  I realize I've given no amount on the cream... but it changes completely depending on the specific potatoes and your personal preference... just don't put in so much cream that they get soupy.  You can always add a bit more.  And resist the temptation to whip the potatoes endlessly.  Taste for, and add, salt and pepper.  
4. Fold in the cabbage and add chives.  Colcannon can also be made with shredded kale in place of the cabbage, and minced scallions in place of the chives.  Yukon Gold potatoes can be substituted, but the Russets give a much more "potato-y" taste.
Chicken Tarragon and Morels
For the basic tarragon recipe, see this version of mine, which was published in Food & Wine magazine...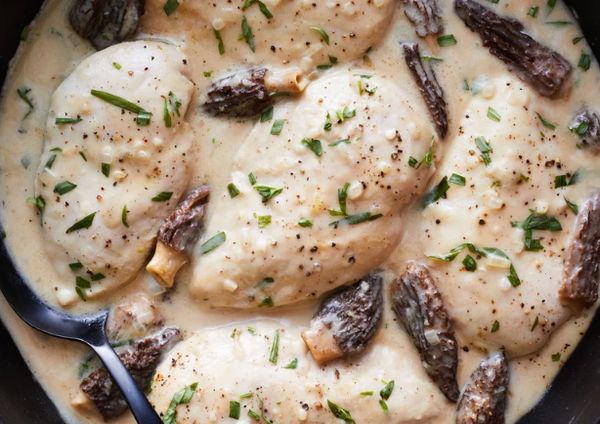 As you can see, this variation contains mushrooms, which might be a fun addition to today's recipe, too!