Forgive me.
The switch from "after Thanksgiving" foods to Christmas prep can induce whiplash...
And now it's mid-December!
So let's get going, people...  Over the next few days, we'll be re-posting our greatest Christmas cookie hits.
You're welcome!
(And please let me know how yours turn out!)
First:  Snowballs!  My Mother's Own...
I grew up in Michigan and upstate New York (and I really mean "upstate..." as in Canadian border!!  Not what we refer to now as "Upstate Manhattan..."), and Toronto...
So Christmas means snow.  And I'm one of those people who LOVES SNOW... I'll shovel, I'll scrape, I'll do whatever it takes as long as I have snow.
But I realize that in many, many parts of the States... usually including Yonkers... snow and Christmas are now mutually exclusive.  So other than snow... there are a few things guaranteed to... get me in the mood...
And the greatest of these is/are... COOKIES!
Mother was a great Christmas cookie maker. And I will now reveal to the world her recipe for snowballs. Yes, I know... every culture has a version of nutty buttery cookies rolled in powdered sugar... I just happen to think these are the best...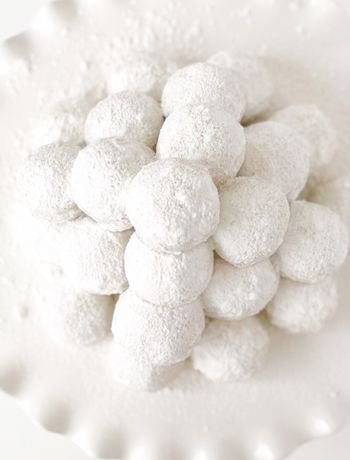 Snowballs
Yield:  5-6 Dozen
Cream:
1 C Unsalted butter
4 T 10X sugar
2 C AP flour
1 C Chopped pecans
2 t Pure vanilla
1 t Water
Roll into balls.  Chill or freeze.  Bake at 400° for 10 minutes.
When thoroughly cooled, roll carefully in 10X.
For an equally delicious variation... use homemade unsalted cultured butter and substitute walnuts for the pecans!  You will love these, too!
To make it easy, here's how I make my cultured butter: