According to the National Turkey Federation (and who else would you ask?), nearly 88% of Americans eat turkey at Thanksgiving.  They report that the average weight of a turkey purchased for Thanksgiving is 16 pounds, so that means that over 700 million pounds of turkey are consumed in the United States every year during the holiday!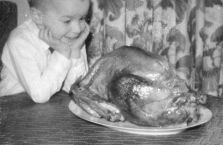 The picture of the little boy gazing lustfully at the turkey is indeed This Old Chef.  It was Thanksgiving at my parents' house in Detroit in... I'm guessing here... 1961 or '62... but my adoration of roast turkey hasn't changed a bit.
As we're one week out from the fateful day, get ready - here comes a flurry of tips, techniques, and my very best recipes to make your family especially grateful!