Eanie Beanie, Chili Beanie, The Hamapalooza Spirits Are About to Speak!
I had some gorgeous heirloom beans from Deb in L.A. ...
Good Mother Stallards (on the left) and Snow Caps (on the right)...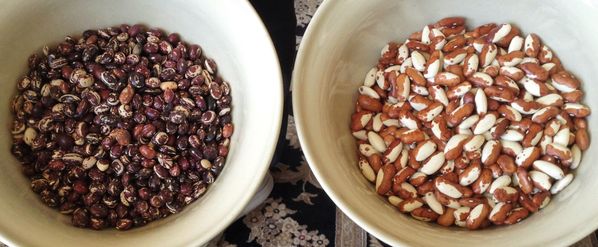 I also had some absolutely delicious Easter ham...
And some perfect avocados that were on a huge sale...
A variation on chili seemed an interesting way to go!
I sautéed a chopped onion, two chopped peppers (red and yellow) in EVOO... then added some microplaned garlic and good old-fashioned chili powder.  To this, I added some of the ham gravy from our Easter dinner...
https://thisoldchef.com/blogs/blog-recipes/posts/happy-easter-ham-potatoes-au-gratin-and-asparagus
... and a box of Pomi crushed tomatoes.
When this tasted good (!) I added chopped Easter ham, a little smoked paprika, and some extra dried oregano and toasted ground cumin to accent the oregano and cumin already in the chili powder...
... and let it bubble gently.
The gorgeous beans were also bubbling gently away (in separate pots) with just salt and water (ignore all foolish received wisdom about not salting beans while they cook... really).
Also:  I'm a recent convert to the no-soak method!  Beans.  Salt.  Water.  Bring them to the boil, lower the heat a bit, and simmer until tender.  No need to decide 24 hours before you want them!!!
Combine the beans and the chili...  Let them get friendly...  And add a hefty (or not) amount of your fave hot sauce.  Serve in heated bowls with scallions, cheese, avocado, and sour cream...  Any or all!!!
And, rest assured, this is not old used Easter ham....believe me!