So the next installment of Our Easter Ham Adventure was a totally new one for us:  ham, pea, and caraway risotto...
Oh boy!  Home run!
I cubed about a cup of the ham, and fried it just a bit in a drop of EVOO.  I set that aside, and began to make a very basic risotto...
http://www.thisoldchef.com/blog.html/perfect_risotto_at_home_with_chicken_and_tarragon/
About halfway through the cooking, I added a tablespoon of caraway seeds, and the ham.  Then, about 2 minutes before the rice was ready, I added a cup of frozen peas.  Once the peas and rice were perfect, I turned off the heat, whipped in a tablespoon of unsalted butter, and added 1/2 cup of Parmesan...
After plating, I sprinkled on some minced scallions (chives would also work), and an extra dusting of Parmesan.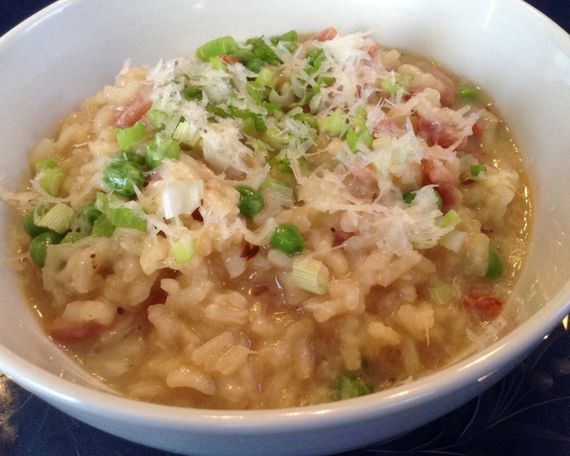 Absolutely delicious and, again... Not at all a re-heated Easter meal!!!
The cheapskate in me loves reporting to you that we are now at the point where the prime ingredient - the ham - in these meals now costs just $5 for 2!  That's right, $2.50 per person...
And again, to quote The Carpenters...  "We've only just begun..."