These come from Chef Extraordinaire Bob Chambers.  You will never, I guarantee, eat another chocolate cookie without thinking about these chocolate shortbreads...
I recently worked with Bob on a very elaborate dinner party... and I have to tell you, his food is even better than I remembered!!!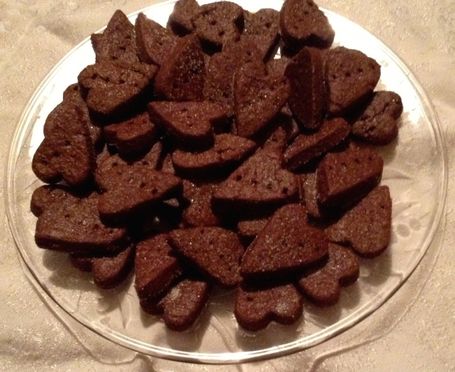 Chocolate Shortbread
Yield:  Approximately 80 (Depending on Size of Cookie)
Cream:
1 lb. Unsalted butter
1¼ C Sugar
4 t Pure vanilla
4 C AP flour
1¼ C Cocoa
1 t Salt
Chill.  Roll approximately ⅜-inch thick on a sugared surface.
Cut into desired shapes.  Prick each cookie with the tines of a fork.  Chill, or freeze.
Bake at 275° for 40 minutes.