Just another reminder that some of the most delicious meals come from trying something you haven't cooked before!  Here I am with a memorable bit of ham from 2014...
It's experiment time... again.  I'm always on the lookout for new ways to stuff ravioli... and today I have ham, I have ricotta, I have the ingredients for pasta...
So I thought it was a good time to try some ham and ricotta ravioli!
And I wanted it to be very very ham-y.  So I diced a whole cup of ham, then chopped it a lot more and added it to just 1/2 cup of fresh ricotta (my recipe is here).  I sprinkled in a bit of Parmesan, tasted it, and added a tiny bit of my home-smoked salt and some black pepper.
Then I tasted it again.  Remember, my friends, you can never taste too frequently!
I decided to add just a few chives, because I planned on a simple sauce, and I wanted ham and smoke to be the predominant flavors.  I'd made the pasta dough earlier, so it would have time to rest in the fridge. Take a look here for my take on the simple techniques of making pasta and filling ravioli...
For the sauce, I melted 1/2 stick of unsalted butter, and let it continue cooking gently until the milk solids separated and began to brown:  a classic beurre noisette.
After gently boiling the ravioli, I plated them, poured a little of the butter over them, and finished with a dusting of Parmesan and a few more chives.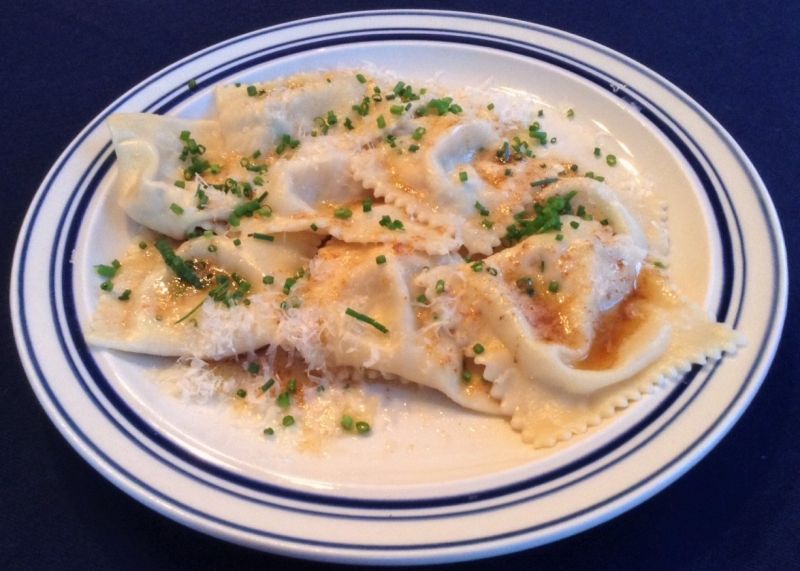 As they say in my favorite movie White Christmas (and please adjust for inflation):  "You'd pay $6.60, or even $8.80...."  This is that good!  I think I may start buying whole hams more often!
PS.  We're now down to $4 per meal... $2 per serving.