I happened to have some milk rapidly approaching its use-by date.  So I made some paneer, just to be ready the next time we wanted some Indian food...
Paneer
Make fresh ricotta...
http://www.thisoldchef.com/blog.html/homemade_ricotta_with_fresh_herbs/
Drain about 1 hour in a towel-lined sieve.
Gather the towel (or cheesecloth) so that the cheese is completely enclosed.  Add a plate or pot with a weight on top (I use canned tomatoes).  Press for at least 3 hours.
Use immediately or wrap tightly and freeze.
Chickpea Curry
The very next day... Surprise, Surprise... I really wanted Indian food!  I had been reading all sorts of articles and blogposts about the use of various dried beans in Indian cuisine and I wanted to play around with the idea.
I started with my usual:  I minced an onion and began to brown-fry the bits in oil.  Remember, don't burn them, but do fry them slowly until they are dark.  I incorporated some chopped carrots and celery followed by lots of minced ginger and garlic, and a tablespoon of my own blend of curry spices, and cooked until very fragrant.
Next I added a splash of tomato sauce I'd made from the September glut in the garden.  I let this bubble away for a bit, then added a chopped red pepper, some almost-cooked lima beans, and 2 cans of chickpeas (all of these amounts are really variable).  Now, in the living dangerously category, I minced two dragon cayenne peppers and put them into the pot...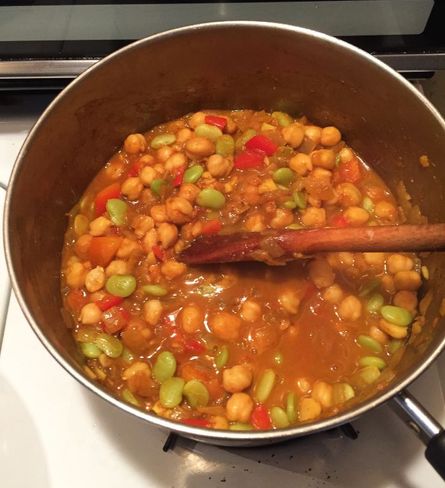 When all seemed ready, I tasted for salt, added a splash of cream (just cuz), and gently stirred in the paneer, which I had cubed and fried in oil...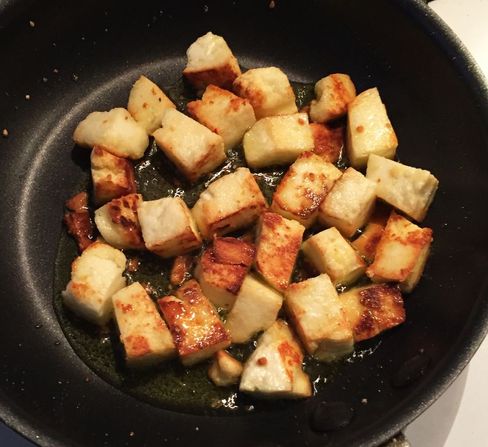 Served with rice and topped generously with ground toasted cumin seeds!
This dish is not remotely traditional, but once you start learning about Indian spices and techniques, I truly believe you can take almost any foods you like in an "Indian direction."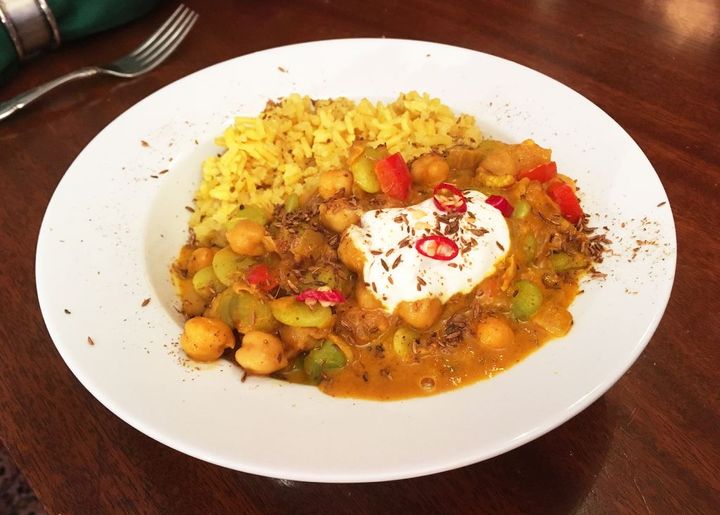 And this dish was incredibly satisfying... and by that I don't mean to damn with faint praise...  It was absolutely delicious!  Even more important, it was satisfying to both of us in the way that only Indian food can be.  I guess I did something right!!!