Read this one!
Because the chances of our ever having a piece of meat like this again are pretty much slim to none!!!
It's not often... OK, only once... when the love of your life turns 65.
He asked for grilled meat of some sort and a baked potato.
Now, Dear Readers, as you know, this is not a frequent request nor is it something in my comfort zone.  But when the once-in-a-lifetime thing comes into play, ya gotta do...
As it happens, my adored coworker, Kelsey Youngman, had been given some absolutely RIDICULOUS beef not long ago, including a dry-aged Wagyu/Angus-cross 28 oz. tomahawk steak.  And she had given it to me.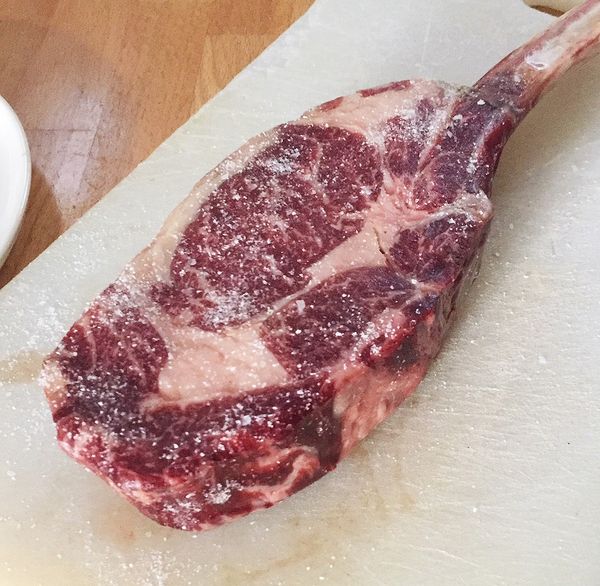 I know, right?
So, I read everything I could find about dry-aged beef, grilling, tomahawks, etc., and came to the conclusion that 2-level grilling and an instant-read thermometer were the way to go.  So I started a full chimney of charcoal and preheated the oven for both potato baking and individual blueberry pie baking...
http://www.thisoldchef.com/blog.html/individual_blueberry_pies_for_the_fourth_of_july/
I knew the pies would need about 45-50 minutes and the potatoes about an hour, and as everyone who cooks knows:  It's the timing that'll getcha!
So I put the pies in first, knowing they would need a little time to sit and cool after baking, and then the potatoes, about 20 minutes before the pies finished.  For the first time ever, I was going to use my new instant-read thermometer to temp baked potatoes... 210°... OMG!  It worked!
But back to The Terror...
When the coals were nice and grey, I poured them into the Weber... just on one side... put the grate in, and closed the lid to let the grate heat.  Then I scrubbed and oiled the grate and... trembling with the fear that visits me only when I am out of my element... I laid the room-temp, salted and peppered tomahawk on the cool side and turned it every few minutes until it reached 115°-120°...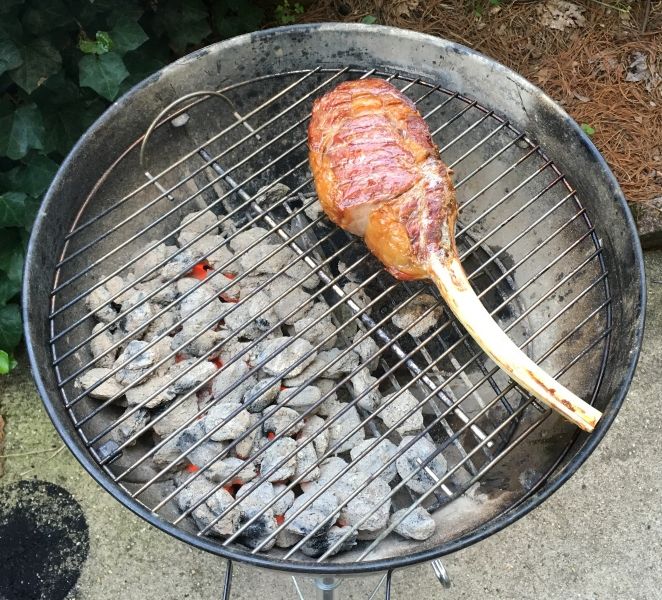 Then transferred it to the hot side, turning once, until it was gorgeously charred and temped out at 125°...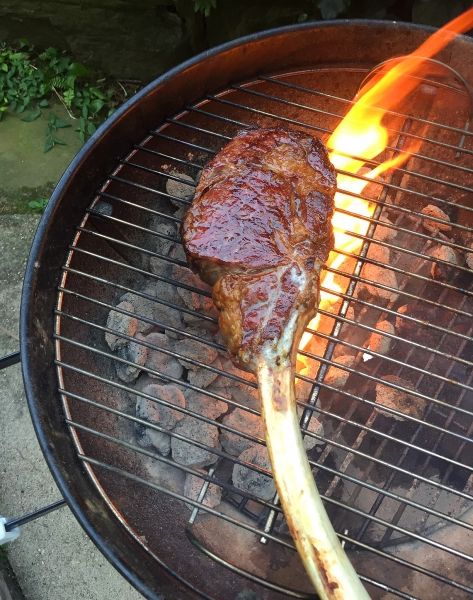 I removed it to let it rest, covered...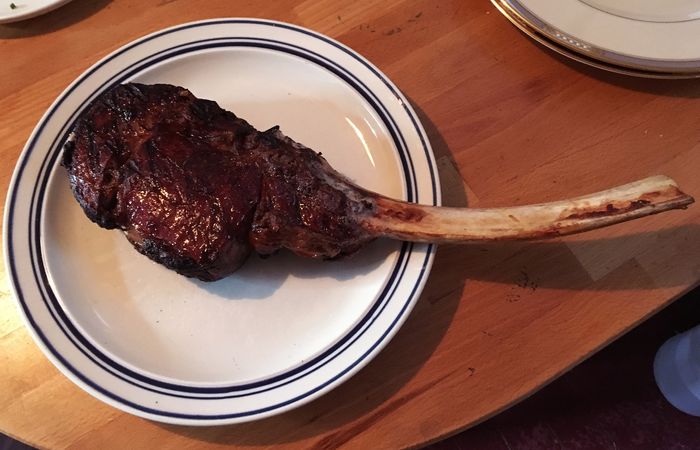 And took a breath for the first time in HOURS.
I made a very mustardy, vinegary, shalloty vinaigrette and used it to dress some red and green endive.  When the potatoes reached 210° ... I pulled them... split them... added butter and chives to his...  sour cream and chives to mine...  Lots of good salt and cracked pepper...
And then, holding my breath again, I cut the steak off the bone... and sliced it.
Would it be wrong for me to scream IT WAS PERFECTLY COOKED!!!  Just barely past rare.  Gorgeous.
I plated it, poured the accumulated juices on top, and we celebrated.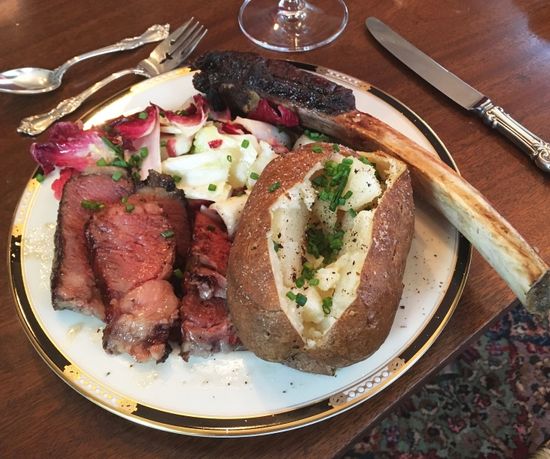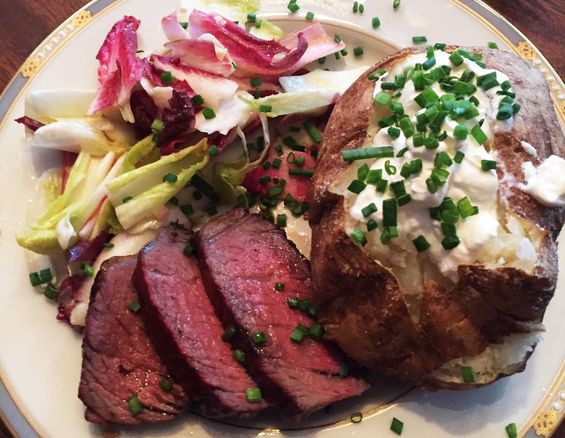 I'm rarely speechless, but this was just unreal.  Tender, but not so soft you forgot it was beef.  A flavor and aroma from another era (the popcorn scent of dry-aged beef is crazy).  And I had forgotten that a good baked potato is its own thing, and really fun on occasion.  The bite of the salad was the perfect counterpoint.
And I must say, I make a fine blueberry pie.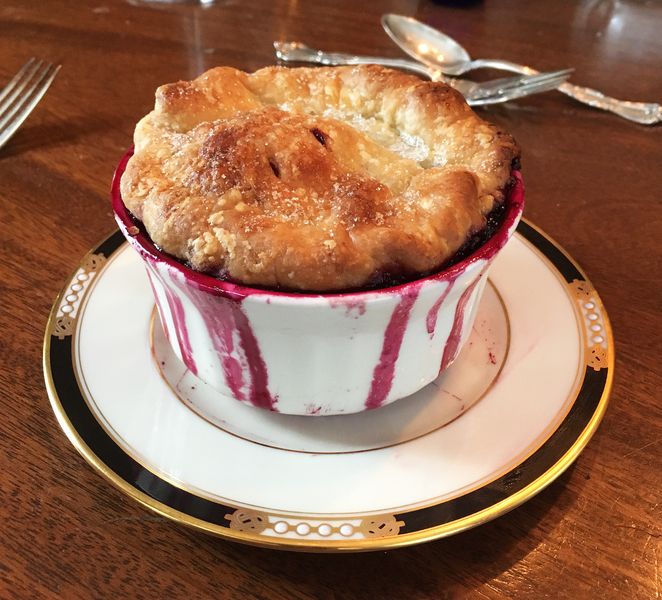 I'm not usually a big Cabernet fan, but with beef this big we surrendered to a bottle of the iconic Flora Springs Trilogy 2012 from Napa... thank you, @rayisle.
All in all...  I think he had a happy birthday!  And I'm very glad I don't have to top this meal any time soon!