I try to make sure that we eat well every night.
I try not to fall into "The Rotation Trap..."  Seven (or however many) dishes served on an endless loop.  Yes, of course there are faves that consistently reappear on our table, but I truly think of those as choices.
This is all to say that there are some occasions that demand something special...
And Anniversary 41/1 back in April was certainly one such occasion!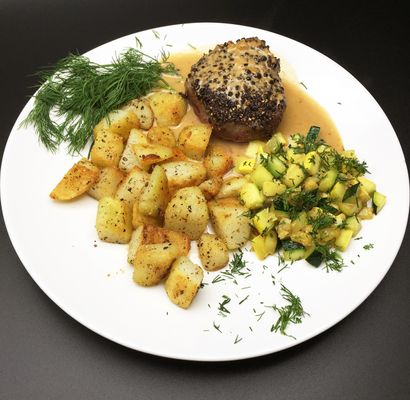 Circumstances provided me with two small filet mignons.  Not gigantic hunks of cow, but we don't eat huge portions of anything.  And steak au poivre is just about Charlie's favorite food, so...
First, I made the sauce for those pretty steaks.  I sautéed minced shallots in EVOO... added port... reduced to almost dry... added homemade beef stock (if you don't have homemade, don't bother with commercial beef stock... YUCK... use your own or some good low-sodium chicken stock).   Let that bubble away gently for a bit, then turn it off.
Then I turned to my good friend and remarkable cook @danielgritzer, for his stellar reimagining of the "meat technique..."
OK, fine, I changed it a bit, but the basics are his!
Take about 2T good whole peppercorns and gently crack them by pushing against them with the bottom of a heavy pan.  Resist the temptation to smash by hitting... you'll be finding peppercorns for months.
Season both sides of the meat with kosher salt.  Then press one side of each filet in the cracked pepper, and leave the steaks pepper side down.
Heat a heavy skillet.
Add EVOO and a bit of butter to the skillet.
Place the peppered side down in the hot skillet.  Cook for about 2-3 minutes, carefully turn the steaks over, and then place the skillet into a preheated 350 oven.  Cook for another 2 minutes or until it reaches your desired doneness.  (Yes, you really do need a good instant-read thermometer!  I recommend the ThermoPop... not wildly expensive and pretty flawless.)  I'd suggest 125-130 degrees.
Let the steaks rest at least 5 minutes.
I had zucchini and yellow squash... dill... and potatoes from the Test Kitchen.  So I made our house fave,  sautéed potatoes with truffle oil:  I cubed three Idaho-type potatoes and nuked them for about 7 minutes in water, then drained and sautéed them until crispy and golden, and tossed them with some truffle oil.   Yes, truffle oil.
I diced and quickly sautéed the squash and tossed in some dill when it was off the heat.
Hot plates.
Steak.
Hot sauce... No, not Hot Sauce... but luscious warmed port 'n' shallot sauce!
Hot veg.
Hot truffle-y potatoes.
Happy Anniversary!!!!!