Big sale on tuna!
Time for a variation on an old friend:  Tuna Filet Mignon from Union Square Café…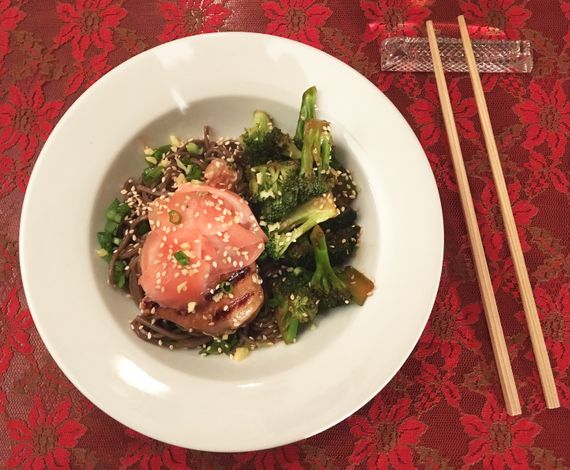 You can find the basics here...
http://www.thisoldchef.com/blog.html/grilled_yellowfin_tuna_with_pickled_ginger/
This time, probably because Charlie and I had been talking about our visit to Japan many years ago, I became intrigued by the notion of Soba Noodles.  And had some on hand.  Which you can, too, these days, no matter where you live.  Buckwheat noodles bring so much flavor - and slippery structure - to the party!
 
I marinated the tuna in a ziplock bag containing some soy sauce, sherry, minced ginger and garlic, sesame oil, and a bit of red pepper flakes, for about 4 hours.  I removed the tuna and let it come to room temp, then placed the marinade in a saucepan and began to simmer it.  I grilled the tuna until JUST BARELY COOKED (we like it pretty rare in the middle, but that's up to you).
I served the tuna with crisp tender broccoli florets and soba noodles tossed with the warmed marinade.  I topped the tuna with pickled ginger (one of my favorite foods) and a sprinkle of toasted sesame seeds.  Tuna steaks are not on the menu frequently, but when they are... this is a really good one!