As always, this year I'm determined to come up with some new ways to use the Remains of the (Thanksgiving) Day.  Not that I don't love the annual progression of favorites!!
I spied a bag of flour tortillas in the fridge (from the test kitchen, of course, but easily found these days in your neighborhood market).  This started me thinking, and, as usual, whilst thinking, I began sautéing a minced onion and a ton of minced garlic...
While that sautéed, I looked around the kitchen and found some cooked rice (just a small amount), a can of black beans and, as I seemed to be heading in a direction, I sought out chili powder, ground cumin, smoked salt, red pepper flakes, and some turkey.
Oh, and a bit of cocoa powder.
(In future, I'd probably use chocolate instead of the cocoa, which seemed a bit bitter to me...  But Charlie absolutely loved it...  So what do I know?)
I added the rice, the drained and rinsed black beans, the chili powder, cumin, salt, red pepper, black pepper, and cocoa to the onions and garlic.  Then a splash of white wine... then a splash of chicken stock... and, for good measure, a splash of turkey stock...
Next, I added the remains of the Thanksgiving succotash, about 1/2 C of corn and lima beans and bacon.  This was tasting GOOD.  But it was a little thin, and I didn't want to reduce it too much because the flavors were already pretty potent.
AHA!
I remembered that I'd made some very plain velouté with which to dilute the gravy on Thanksgiving (I'd gone a bit overboard on the duxelles, so it tasted a bit too mushroomy).  I started adding the velouté by the tablespoon... et voilà!  After about three tablespoons, it was creamy, viscous, and some of the sharp edges had been smoothed... not too much, just enough...
A pinch more plain (not smoked) salt, then I started stuffing the tortillas (which I'd barely softened in the microwave).  I put a layer of the sauce over the bottom of a glass baking dish, placed the filled tortillas on top, added a bit of sauce over the tortillas... grated some sharp cheddar on top... and placed the dish in a 350 oven until it all started to bubble.  Switched to broil for just a minute!  Scooped out these beauties onto hot plates, sprinkled the top with minced cilantro and...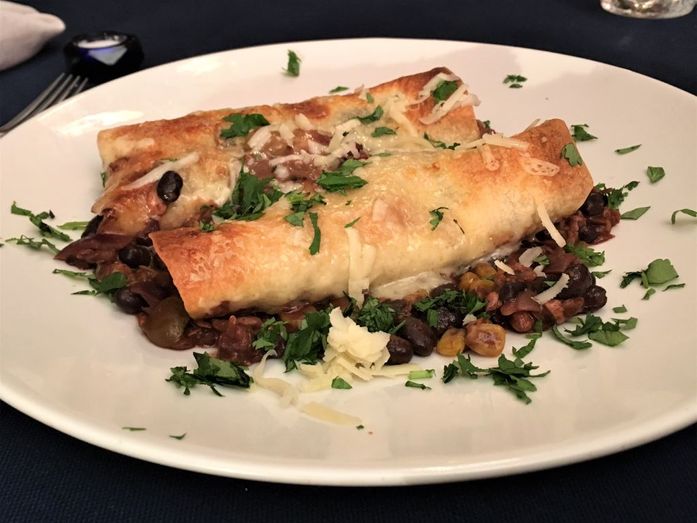 Folks, this was immediately in the top five... maybe even the top three!
Any changes?  As I said, perhaps chocolate instead of cocoa.  Maybe some sour cream.  All I know is, it was So Good we're both still talking about it days later.  Delicious.  And really pretty on the plate...